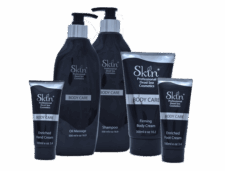 Many studies were conducted in the medical field shows most amazing qualities of the Oblipicha plant.
The Oblipicha plant used for many years pharmaceutical and food. With advanced technology developed in a number of cosmetic products containing high concentrations of plant Oblipicha extracts taken from the fruit itself, the leaves surrounding it, from the bark of the tree itself and itsseeds, a combination of minerals and mud from the Dead Sea. The Oblipicha fruit contains unprecedented medicinal properties and is known to accelerate the resumption of skin cells.
Professional series which is designed for those who suffer from seborrhea, redness and sensitive skin Seborrhea is characterized by gentle exfoliation in the form of ichthyosis, skin redness and swelling accompanied by itching, mainly reflected in the scalp, eyebrows, behind the ears and in expression lines.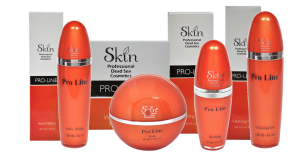 Pro Line Series was developed to provide further treatment or adjuvant therapy in each professional series at the cosmetic institute.
Pro Line products are meant to avert premature skin aging as well as photoaging which is characterized by skin thinning, its dryness, hyperkeratosis, focal hyperpigmentation and a net of thin wrinkles. All products of this line are rich in components which have moisturizing, regenerating, whitening properties, contain UVA-, UVB-, UVC –filters and unique compounds stimulating the synthesis of water-holding molecules. Regular application of Pro Line products helps to maintain an optimal level of moisture throughout a day, to whiten skin, tonisize it and keep elastic, as well as to improve protective functions which resist negative environmental impact .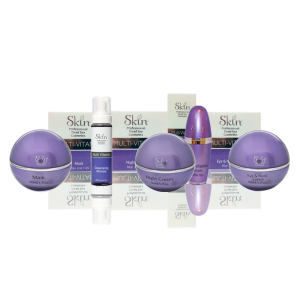 Multivitamins series of Skin company has a rich complex of vitamins combined extracts and Dead Sea minerals to help maintain skin and a significant delay in the appearance of markers of aging.
The series contains a winning combination of different types of vitamins with a particularly high concentration of vitamin C imprisoned in tiny capsules, during treatment or melt application capsule into the skin and inject the vitamin C into cells.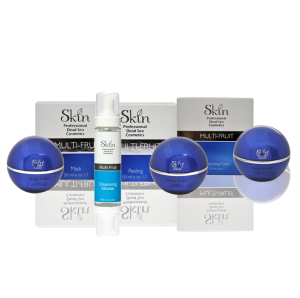 SKIN Multi Fruit Series Had been especially developed for oily and acne prone skin, treats acne and balances sebaceous glands secretion, calms Seborrhea and treat post acne scars.
The Multi Fruit Series composed of various, mixtures of fruits and vegetables extracts such as: citrus, apples, tomatoes, cucumbers, carrots, coconuts, papaya and more which had been unified to a special formula combining natural lactic acids and active enzymes.
Combining a caring treatment in the Cosmetic Salloon with intensive home treatment, results are visible within few days, a proper treatment can prevent the appearance of scars and post acne pigmentation.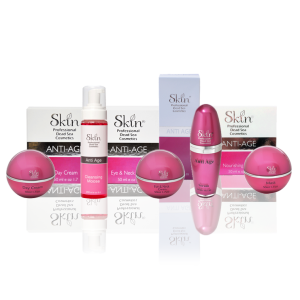 Skin Laboratories Anti-Aging Series had been specially developed for a skin that had already started the ageing process, which reflect in multiple wrinkles, age and sun pigmentation, dropped and released skin, with a tired facial look without an even skin tone. All of the series products contain omega 6 and 3 in high concentrations and preserved in black caviar mini –capsules combining with dead sea minerals Our Anti-Aging Serie is highly recommended to use starting from the age of 40 and suitable mainly for dry- very dry skin. As a result of many researches it had been found that the combination between Black Caviar (that contain Omega 3 and Omega 6 in high concentrations) and Dead Sea minerals improves the skin texture within short duration of time.
The black caviar keeps the Omega 3 and 6 fresh and only when it comes to contact with the skin it breaks, melts and absorbed into the skin.